Episodes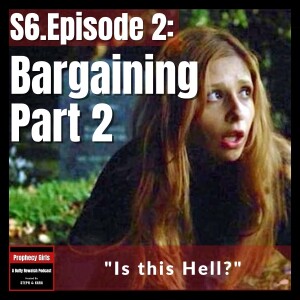 Thursday Jul 27, 2023
Thursday Jul 27, 2023
Buffy is back! Well, mostly. Having clawed her way out of her grave, the resurrected slayer stalks the streets of Sunnydale. The Scoobies, unaware that their spell was successful, formulate a plan to fight back against the invading demon biker gang. Spike and Dawn enjoy a brief motorcycle road trip.
Hear us discuss…
Steph reveals the true ring of fire

Kara goes full Xander apologist

Just where, exactly, did they bury Buffy?

City construction permit logistics

What is the plan???
Trigger warnings
Misogyny, rape threats, torture
💬 SOCIAL MEDIA:
✉ Email us at prophecygirlspodcast@gmail.com
Join us on Discord: https://prophecygirls.ca/discord
We love hearing from our listeners!
🎬 PRODUCERS:
Emma
Allison
Julian
Haley
Jordan
Louise
Reece
Amie

Support Prophecy Girls on Buy Me a Coffee!