Episodes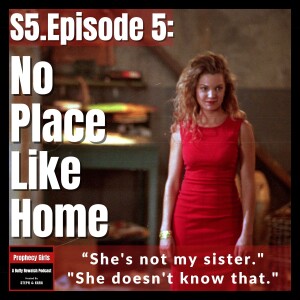 Thursday Dec 01, 2022
Thursday Dec 01, 2022
Buffy is convinced a demon is behind her mom's sudden illness. Equipped with the Dagon sphere—her consolation prize for losing out on the title of Lil' Miss Pumpkin Belly to her sister—and a trance spell that ruins her rug, Buffy investigates. The answers will rock her world and make her question everything she thinks she knows about her life, her memories, and her family.
Hear us discuss:
Dawn, stop taking credit for Buffy's hard work

Is Intern Ben even a real doctor?

So are these monks subletting from Moloch's guys?

Riley continues to be useless and whines about it

We know the real reason Spike was lurking outside Buffy's
Trigger warnings
Domestic abuse, medical content, mental illness, torture
💬 SOCIAL MEDIA:
✉ Email us at prophecygirlspodcast@gmail.com
Join us on Discord: https://prophecygirls.ca/discord
We love hearing from our listeners!
🎬 PRODUCERS:
Emma
Brady
Allison
Julian
Haley
Jordan
Louise

Support Prophecy Girls on Buy Me a Coffee!